LLean Administration means transferring the Lean Management methods that originated in production to all administrative processes. This ensures that the customer's requirements, especially those of internal customers, are met in administrative processes as well. Consequently, a consistent implementation of the Lean Philosophy throughout the entire company is guaranteed.
The Lean guiding principle in administration is the same as in production: How do we ensure, that the results of the administrative processes can be handed over to the subsequent process in the required quality, by the agreed deadline, with the estimated costs. It is crucial that these requirements are clearly described and can be measured and represented by key figures.
Thus, the same principle as in production is started and developed in administration – an improvement process based on figures and facts.
---
1. "Process mapping" – Analyse processes
Even in administrative procedures, the customer defines through his request or expectation the TAKT (tact time). The TAKT describes the time unit in which the required product or service must be delivered.
With the help of process mapping (Swimlane Diagram) we analyse und visualise all interacting activities of all functional areas involved in the process. Therefore, analogue to the procedures in the production sector, deviations and disturbances in the process become visible and can be identified as causes of waste.
Process analysis tools
Process mapping (Swimlane Diagram)
Waste Analysis – 7V in the administration
Duty Structure Analysis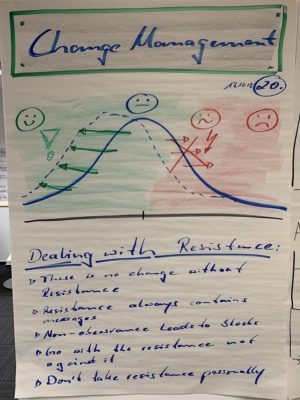 ---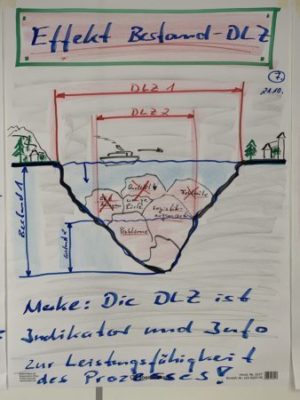 2. Identify potentials
After we have analysed the processes and with the help of the visualisation that has already been done, we can very accurately and effectively identify potentials in administrative processes that we can raise with the help of the Lean methods and tools.
The used methods and tools include:
Define, identify and evaluate KPI´s for administrative processes such as quality, delivery reliability and lead time
Visualise and monitor performance indicators
---
3. Process Design (PD)– Develop administrative processes
In this step, the previously analysed overall process is redesigned. This takes place on the basis of customer contact, taking into account the Lean principles for administration. The aim is to generate the shortest possible lead time for the requested service.
Furthermore, the redesigned process must be designed to ensure compliance with quality requirements and budgeted costs.
The used methods and tools include:
Takt / Production according to customer's needs
Flow / "one piece flow"
Pull / pulling systems
JIT – Just in Time
SFM – Shopfloor Management / SFM
---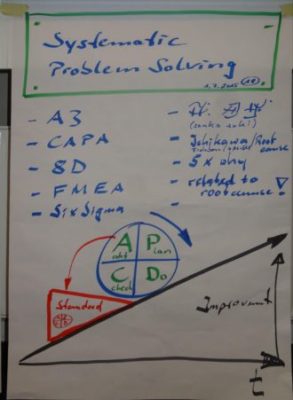 4. Implementation
The analysis, the identification of potentials and the development of new processes are followed by the implementation.
Together with you we develop a TIP (Tactical Implementation Plan) to ensure a successful implementation of the Lean Philosophy in your administrative processes.
In doing so, we refer to:
SFM – Shopfloor Management
PDCA – Systematic Problem Solving
Workflow Organisation
Service Level Concept
CIP – Continuous Improvement Process